CCAR Journal: The Reform Jewish Quarterly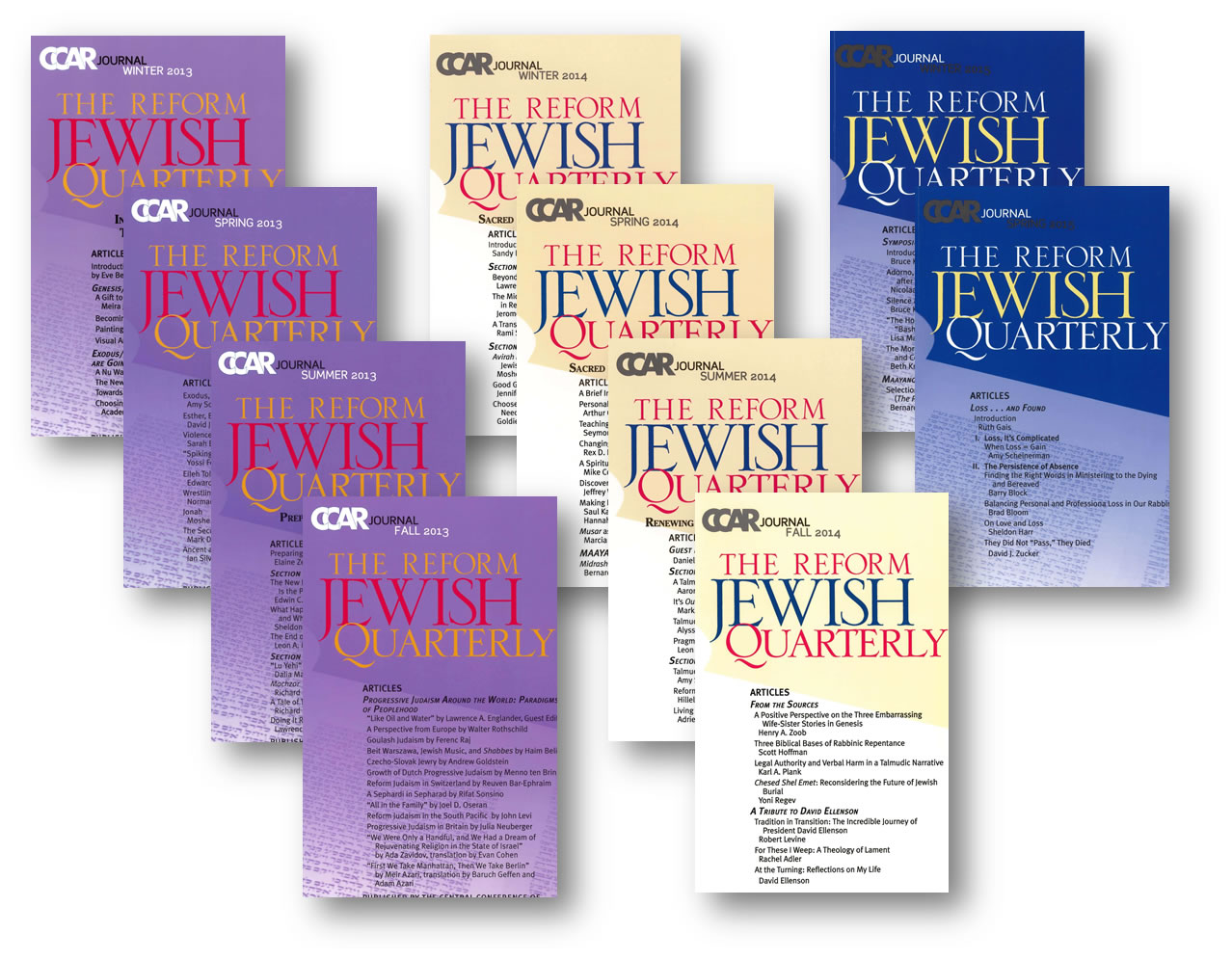 Join the conversation!
Engage with ideas about Judaism and Jewish life through essays, poetry, and book reviews by leading scholars, rabbis, and thinkers.
Great for adult learning programs and board study opportunities.
A journal for
all
Reform Jews –
Subscribe Now.
---
Excerpts from past issues
Select an issue to see the table of contents and access PDFs of select articles.
Special Symposium issues
Poetry After Auschwitz (Winter 2015)
Sacred Teaching and Spiritual Learning (Winter 2014)
Preparing for the New Machzor and the High Holidays (Summer 2013)
Inspiration and Opportunity: The Arts in Jewish Life (Winter 2013)
Gender and Judaism in Conversation (Fall 2012)
Judaism, Health, and Healing (Summer 2012)
Judaism and Science (Winter 2012)
New Visions of Jewish Community (Spring 2011)
Becoming a Rabbi after Ordination (Winter 2011)
Politics and Spirituality (Summer 2010)
Jewish Perspectives on Finances and the Marketplace (Spring 2010)
High Holy Day Liturgy (Spring 2009)
Synagogue Transformation (Winter 2009)
---
---
About the Journal
The CCAR Journal: The Reform Jewish Quarterly seeks to explore ideas and issues of Judaism and Jewish life, primarily - but not exclusively - from a Reform Jewish perspective, in both prose and poetry.
This highly regarded journal contains articles of contemporary interest to all Jews by leading members of the rabbinic, scholarly, and lay communities. It was previously published under the name Journal of Reform Judaism.
View the masthead