Alan S. Yoffie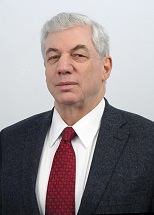 Alan S. Yoffie is a former president of Temple Emanuel in Worcester, MA and a regular participant in Outreach Training Institute programs of the Union for Reform Judaism–Reform Jewish Outreach Boston. Mr. Yoffie wrote
Sharing the Journey - The Haggadah for the Contemporary Family
and its Seder Leader's Guide to enable all family members, wherever they are in their religious commitment or observances, to enjoy a welcoming Passover celebration and to truly experience the power of the Seder and the story of the Exodus: A shared Jewish experience that has historical and contemporary significance to persons of all faiths.
Mr. Yoffie has actively served Temple Emanuel and the Jewish Community in Worcester for over 35 years. In addition to serving as President, Vice President of Education, and Treasurer of Temple Emanuel, Mr. Yoffie chaired a Rabbinic Search Committee, and the School, Finance and Sanctuary and Sanctuary Renovation Committees. He also served on the Worship Committee and co-chaired the Building and Location Committee of Temple Emanuel Sinai, the successor congregation to Temple Emanuel and Temple Sinai, Worcester, MA. In addition to his congregational service, Mr. Yoffie has served on the Board of Directors and the Strategic Planning Committee of the Worcester Jewish Community Center and on the Board of Directors and the Strategic Planning and Quality Assurance Committees of the Jewish Healthcare Center. Since 2010, Mr. Yoffie has conducted monthly Shabbat services on Friday afternoon for residents in the Alzheimer's Unit of the Healthcare Center and members of their families .
Mr. Yoffie is a graduate of Brandeis University and The George Washington University Law School and is a member of the Bar of the State of Delaware and the District of Columbia. A retired CEO of a family business, Mr. Yoffie's professional career has also included government service, the private practice of law, and management consulting. He is married to Johanna D. Drooz Yoffie, an attorney. They have four children and three grandchildren who look forward each year to Passover Seders with their parents, grandparents, and friends of all faiths who are welcomed to their home.
CCAR Press works include: