Rabbi Howard A. Berman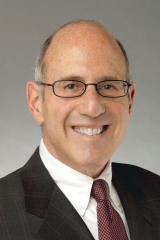 Rabbi Howard A. Berman is the Executive Director of the Society for Classical Reform Judaism, the voice of advocacy for the preservation and renewal of the historic values and worship of the Reform Jewish tradition. He is also founding rabbi of Central Reform Temple of Boston, and rabbi emeritus of Chicago Sinai Congregation, Chicago's historic center of liberal Reform Judaism, having served as senior rabbi since 1982. As Director of the Society for Classical Reform Judaism, he lectures at congregations throughout the country, and teaches regularly at Hebrew Union College–Jewish Institute of Religion (HUC-JIR), the major seminary of Reform Judaism, at its campuses in Cincinnati, Los Angeles, and Jerusalem.
Rabbi Berman was born in Fair Lawn, New Jersey, where he received his early religious and general education. After attaining his undergraduate degree in European History from the Universities of Cincinnati and London, England, he studied for the Rabbinate at the Leo Baeck College in London, the Hebrew University in Jerusalem, and HUC-JIR in Cincinnati, where he received the degree of Master of Hebrew Letters and was ordained in 1974. He has also pursued graduate studies in American Religious History at the University of Chicago Divinity School and the Chicago Theological Seminary, and studied Architectural History at Trinity College, Hartford, Connecticut. In 1999 he was awarded the degree of Doctor of Divinity by the HUC-JIR .
Rabbi Berman is the editor of several books, among them The New Union Haggadah, Revised Edition, published by CCAR Press in 2014.
CCAR Press works include: