Mark Podwal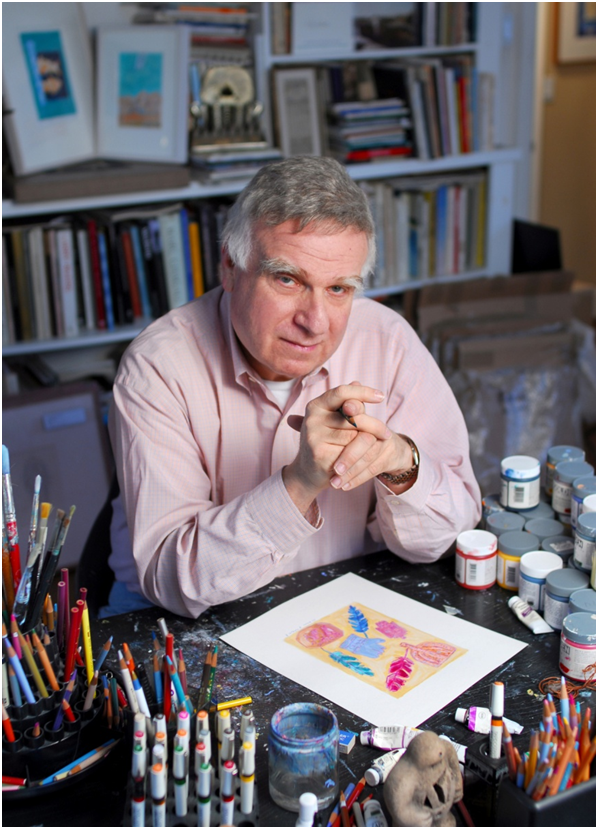 Mark Podwal, perhaps initially best known for his drawings in The New York Times Op-Ed, is the author and illustrator of numerous books (with a typical focus on Jewish legend, history, and tradition). His work appears in the collections of the Metropolitan Museum of Art, the Victoria and Albert Museum, the Fogg Art Museum, and the Library of Congress. He is represented by the Forum Gallery in New York and has exhibited there since 1977.
Podwal's artistry has been employed in an array of diverse projects, including the design of a series of decorative plates for the Metropolitan Museum of Art. His work has been engraved on a Congressional Gold Medal and woven into an Aubusson tapestry for the ark in the main sanctuary of Temple Emanu-El in New York. He also designed sixteen kiln cast glass panels for the United Jewish Appeal Federation Headquarters.
In 2011, Podwal received commissions to design new embroidered textiles for Prague's seven hundred year old Altneuschul; to create a limited edition print for The Metropolitan Opera's production of Nabucco; to design Hanukkah cards for The Metropolitan Museum and The Metropolitan Opera; and to illustrate Sharing The Journey: The Haggadah for the Contemporary Family, published by CCAR Press in 2012. His illustrations also appear in Mishkan T'filah for Youth, published by CCAR Press in 2014.
Among Podwal's many accomplishments are a National Jewish Book Award, a Silver Medal from the Society of Illustrators, and a Jewish Cultural Achievement Award from the Foundation for Jewish Culture. He has been named an Officer of the Order of Arts and Letters by the French government and was awarded a Doctor of Humane Letters honoris causa by Hebrew College (Newton Centre, MA) in 2003.
LIMITED EDITION GICLEE SIGNED PRINTS AVAILABLE:
CCAR Press works include: