Rabbi Herbert Bronstein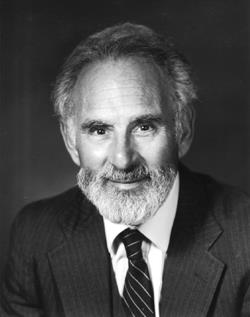 Rabbi Herbert Bronstein has combined a successful vocation as a congregational rabbi with extensive community service and lifelong achievements in scholarship, academic teaching, lecturing, and writing. He served as rabbi of Temple B'rith Kodesh in Rochester, NY for fifteen years and later as senior rabbi of North Shore Congregation Israel in Glencoe, Illinois, for a quarter of a century. His Emeritus title there is Senior Scholar. He has been active in social justice and interfaith activities throughout his career.
Rabbi Bronstein was the editor of the Reform movement's A Passover Haggadah, which has been termed a "modern liturgical classic," and sold well over one million copies. He served as Chairman of the Liturgy Committee of the Central Conference of American Rabbis and Chairman of the Joint Commission on Worship of American Reform Judaism for many years. In 2000, Rabbi Bronstein was honored as Alumnus of the Year by the University of Cincinnati's School of Arts and Sciences. For fifteen years he taught Comparative Religion at Lake Forest College and also taught courses in history and philosophy of religion at the University of Rochester, Northwestern University, the University of Illinois at Chicago, and Oakton Community College. He has lectured at congregations and universities all over the U.S. and abroad. He was a visiting scholar at Oxford University in England, and has served as scholar-in-residence at Hebrew Union College-Jewish Institute of Religion and at the Shakespeare Festival in Stratford, Ontario.
Rabbi Bronstein is a regular lecturer for Common Ground and OASIS in Chicago, and The Clearing and Lawrence University's Bjorklunden in Wisconsin, as well as at The Mather Lifeways retirement community in Evanston, Illinois, where he has resided since 2013.
CCAR Press works include: