Rabbi Lisa Grushcow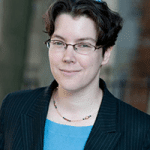 Rabbi Lisa Grushcow received her BA from McGill University in 1996. She was then named a Rhodes Scholar and spent three years at Oxford University, where she earned a master's degree in Judaism and Christianity in the Greco-Roman World, and then a doctorate. She was ordained a rabbi in 2003 at the Hebrew Union College-Jewish Institute of Religion in New York City, where she studied as a Wexner Graduate Fellow.
Upon graduation, Rabbi Grushcow joined Congregation Rodeph Sholom in New York City, where she served as associate rabbi. She held this position until July 1, 2012, when she assumed the role of senior rabbi at Temple Emanu-El-Beth Sholom in Montreal. Rabbi Grushcow edited the publication
The Sacred Encounter: Jewish Perspectives on Sexuality
, published by CCAR Press in 2014. She is also a contributor to
The Torah: A Women's Commentary.
Rabbi Grushcow is a sought-out speaker in the Montreal Jewish community. She is an active member of the Christian Jewish Dialogue of Montreal, the Montreal Board of Rabbis, the Canadian Rabbinic Caucus, and the Human Rights Committee of the Montreal Holocaust Museum. She is a member of the President's Rabbinic Council of the Hebrew Union College-Jewish Institute of Religion, and is involved in the Reform Movement on an international level. In 2015, The Jewish Daily Forward nominated Rabbi Grushcow as one of the 33 America's Most Inspiring Rabbis.
CCAR Press works include: